Spread GIANTmicrobes in your Classroom!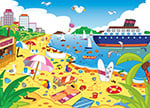 Find the Microbes at the Beach:
Click here for a printable Find the Beach Microbes search game.
GIANTmicrobes are on vacation at the beach! Can you find them all?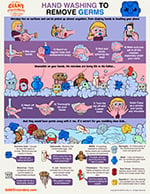 Handwashing Infographic:
Click here to download our Handwashing infographic.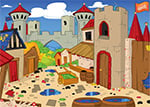 Find the Plagues in the Castle:
Click here for a printable Find the Plagues search game.
GIANTmicrobes Plagues are storming the castle! Can you find them all?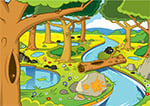 Find the Microbes in the Woods:
Click here for a printable Find the Microbes search game.
Can you discover your favorite tiny wildlife hidden in the scene?
Testimonials
"Fantastic teaching tool! The antibody and snap-on antigen was a huge hit."
Megan R
"We have quite a few GIANTmicrobes for our Science 6 classes. We just ordered Euglena and Paramecium! Love them! Almost life-like, in a GIANT way."
Dr. Mac
"I love these educational toys, it's a great way to show students how microbes look."
Mirna R.
"This purchase is one of the best things I've ever done. It's very convenient and valuable to use it in lab to teach students. I am happy that I ordered 10 Bacteria dolls."
Bashar A.
"I love using these little guys in my classroom, they help get the students thinking about the microscopic world."
Bradford H
"I've been buying GIANTmicrobes for years. A great educational tool for students young and old."
Chad E.
"I love the microbes. I have made it a weekly lesson for kids called Microbe Monday. I made 1-page fact sheets that I give the kids and then I hang the microbes from the ceiling. The kids love it. Tangential science."
Jeff G.
"GIANTmicrobes get my 3rd Graders so excited about learning about our brains and growth mindsets. The gigantic neuron is our class mascot. I have a smaller neuron that I glued magnets to that sticks to our white board and brings us the quote of the week."
Andee R.
"I am conducting a germ project so this newest addition to my supplies is great. My students love it and are conducting online research about it."
Tina M.
"A wonderful aid in supporting our virology research and teaching efforts."
Michael K
Interested in purchasing GIANTmicrobes for your classroom?
For other questions, please contact:
(877) 642-7623 x109